How To Give Your Home A Feng Shui Makeover — In One Day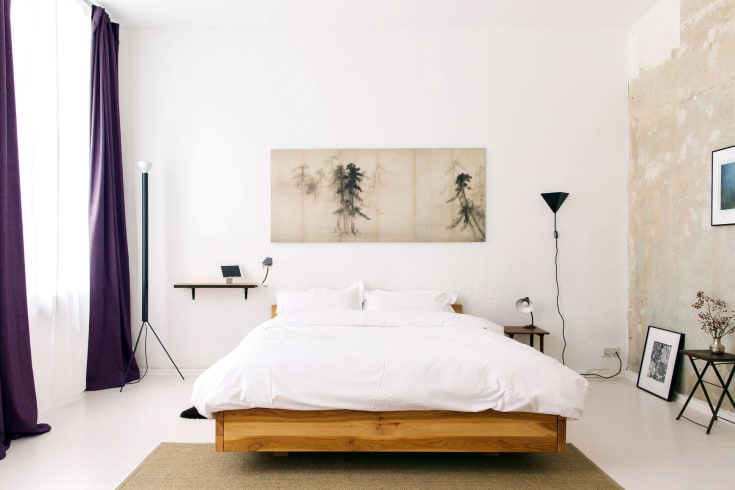 After years as a feng shui consultant, I've seen firsthand how interior design can transform people's lives in positive and uplifting ways. The month of January is actually considered the best time to prepare for a feng shui makeover since it falls right before the Chinese New Year and during a time when many of us are dedicated to self-improvement of some kind.
If designing a healthier, happier home is on your list of resolutions this year, this one-day feng-shui-approved makeover can help you get started:
1. Start by giving your front door a touch-up.
The front door is the first thing people will see when they visit your home, and it's where energy enters. It's worth it to make sure it's looking its best! Pay attention to how the door opens: Does it crack? Does the lock seem solid? Does it open wildly and easily? Is the paint chipping? Brush it off, and make a note to repair anything that seems broken or flimsy.
 2. Make your entryway more inviting.
Your home's entryway should be attractive and uncluttered. I often work with clients who have entryway closets stuffed with gift bags, summer hats, and beach towels. Are those items truly necessary for leaving the home to work on a rainy day? Probably not, so you can edit those down and organize the rest into attractive boxes.
Ask yourself: What do I see when I get into my house? Is it calm? Is it welcoming? Does this seem like a prosperous house? If there are shoes, coats, and bags strewn throughout the space, find the proper storage for them.
Ideally, the kitchen should always be stocked with healthy food, which signifies abundance. Pay special attention to the stove, refrigerator, and pantry. Is your pantry optimized for easy access to your most-used spices, grains, and sauces? Optimizing your storage and layout will help you resist the temptation to reach for snacks too. Another important feng shui tip: if your sink (water element) is next to the stove or oven (fire element), you could consider placing an herb, plant, or wooden cutting board in between the two so that the elements of water and fire do not clash.
4. Tidy up your living room.
In the living room, proper storage is key yet again. In feng shui, we try to make our living rooms as cozy and relaxing as possible, which often means tucking away certain devices and electronics. A nicely edited and uncluttered bookshelf is way more restorative than, say, one filled with plugs and remotes. Give those things a home so they're not on display, give away the books you have read and loved to people who could be inspired by them, and make sure your sofa is not placed under a beam—this could have what's known as a harsh "cutting energy."
5. Pinpoint the center of your home—and spruce it up with some calming accessories.
According to the bagua map (an essential feng shui tool that you can learn more about here), the central point of your home should be devoid of tall shelves or furniture. Its main ruling element is earth, so introduce yellow, creams, and gold tones if you can. Consider an off-white rug for this area, which will act as a distribution center for all the good energy to flow into the rest of the rooms. Candles, plants in earthy pots, a Himalayan salt lamp, soft-textured armchairs, and art that promotes health and peace are also great additions. (But no depictions of water, please!)
6. Be critical about what you choose to display in your bedroom.
For optimal sleep and rejuvenation, I suggest removing everything, except for maybe a linen or two, from underneath your bed. This way chi, or life energy, can flow freely around you as you sleep. (There are so many ways to attract positive chi that I made an entire course about it.) After you tidy that up, think about whether everything on display in your bedroom inspires rest and romance. I recommend removing large paintings, electronics, big objects, and mirrors (yes, mirrors!) that could prevent you from being fully rested.
7. Place a small mirror on your bathroom door.
Bathrooms are technically a place where chi might go "down the drain." Be sure to close the doors of the bathrooms at all times and close the lids of your toilets. I advise my clients to put a small mirror on the outside of the bathroom door so that the chi stays inside the home and doesn't disappear down the drain. For en-suite bathrooms, consider adding a door or curtain so that the bedroom is separated from the bathroom.
8. If you have a dining room, use it!
Most of us do not have much time to sit for a formal meal at the dining table, but really make an effort to use it this year. Breaking bread is one of the easiest ways to bond and incur positive chi in a home. When not used, you could place a big bowl of fresh fruits on the dinner table to invite positivity. Round, fresh fruits like pears and oranges are believed to attract wealth. You can even put a mirror next to the dinner table in order to magnify this luck!
View the full article here at MindBodyGreen
https://www.altpdx.com/wp-content/uploads/2019/11/logo-horizontal.png
0
0
AltPDX
https://www.altpdx.com/wp-content/uploads/2019/11/logo-horizontal.png
AltPDX
2019-02-06 07:15:53
2019-02-06 07:15:53
How To Give Your Home A Feng Shui Makeover — In One Day