Beaverton was chosen as one of Apartment Therapy's Coolest Suburbs in America 2019. We showcased the burbs nationwide that offer the most when it comes to cultural activities, a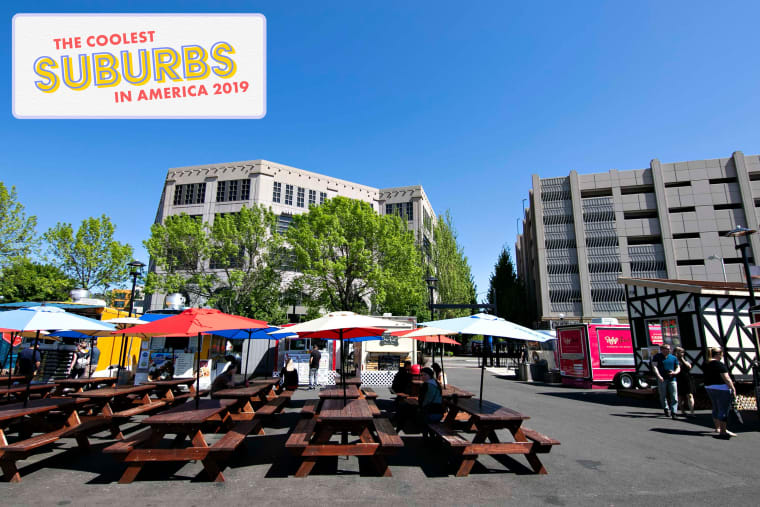 sense of community, and simply a good quality of life. For more on how we define "cool" and what exactly counts as a suburb, check out our methodology here. To view Apartment Therapy's other Coolest Suburbs in America 2019, head here.
The living is easy in Beaverton, a suburb of Portland, Oregon. Neighbors are chatty. Bike trails to neighboring towns and downtown Portland abound. Hop in your car to dozens of box stores minutes away. It seems like everyone composts. Parking is readily available and free. There's never a line at the post office. City employees return calls swiftly. I could go on. Have I mentioned that all aspects of life are comically uncomplicated? Especially compared to a stint in Manhattan? They are.
Beaverton particularly excels at public spaces and programming: Well-maintained trails weave through mossy forests right out of "The Hobbit," in a dozen residential neighborhoods. Full rosters of movie nights and festivals fill warm evenings.
Get here sooner rather than later, because housing prices continue to rise. If you envision the West Coast as a very expensive block of cities, the Portland region is the cheapest destination on an overpriced block, which will continue increase in price. Beaverton's many imports from L.A. and San Francisco constantly say things like "I would've moved here a decade ago, if I'd known how nice people are."
Editor's note: Beware that locals scratch their heads at the Beaverton city map, which is inexplicably oddly shaped, with Beaverton entirely circling multiple downtown areas. The main impact on locals is that many residents who appear to live in Beaverton technically do not, and thus miss out on cheap parks and recreation classes. This guide covers the Beaverton area.
$392,200, according to Zillow.
$223 in Beaverton, vs. $231 in the surrounding metro area of Portland/Vancouver/Hillsboro, according to Zillow.
View the full article here at Apartment Therapy
https://www.altpdx.com/wp-content/uploads/2019/11/logo-horizontal.png
0
0
AltPDX
https://www.altpdx.com/wp-content/uploads/2019/11/logo-horizontal.png
AltPDX
2019-06-19 07:00:56
2019-10-30 19:44:41
Why Beaverton, Oregon Is One of the Coolest Suburbs in America