An iced cottage topped with gumdrops and peppermint candies is likely your first thought when you hear someone mention a gingerbread house.
But a gingerbread-style home is also a beautiful architectural style with deep historic roots. You'll know a gingerbread house when you spy one, notes Beverly Solomon of the eponymous design firm.
"They're the epitome of cute—I like to refer to these homes as 'architectural lace,'" she says.
For more on this over-the-top home style, including the history, where you'll find them, and what it's like to live in and maintain a gingerbread-style home, read on.
The history of gingerbread homes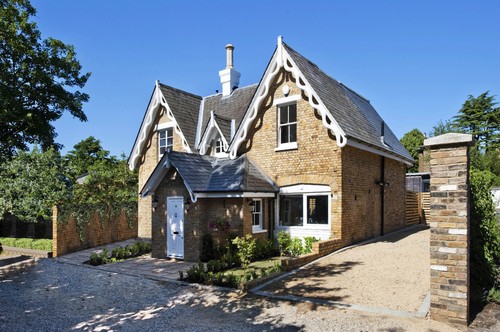 Photo by Luxe Interior International
Gingerbread-style homes grew in popularity during the Victorian era of architecture in this country, which spanned the late 1830s up until 1900. And it was these homes that were often decorated with delicate ornamentation common to the era's design.
"The Victorian period in the U.S. was a time of great expansion of wealth, innovation, and an emerging middle class," explains Solomon. "And this meant that average people wanted their homes to have those extra frills, just like their clothes, which had the same touches to indicate they were moving up in the world."
But the gingerbread style can also trace its history to Haiti. Architects from this island nation traveled to Paris and then brought home the bold color combinations and decorative scrollwork to use on local residences and municipal buildings.
Key features of a gingerbread home
Photo by Becky Harris 
A gingerbread home isn't its own style in the way Edwardian and Craftsman styles houses are. Instead, the hallmarks of the gingerbread style—think fancy millwork, scroll designs, steeply pitched rooflines, and lacelike cutouts and patterns—are most often seen grafted onto other architectural styles, notably Victorian-era homes.
Gingerbread houses are also known for their unusual paint shades (think teal, maroon, mustard yellow, and bright white) that were used to highlight the eaves and arches that line the rooftops, porches, and windows.
"A gingerbread-style home is truly special," says Lacey Power, an associate broker with Premier Sotheby's International Realty in Asheville, NC. "It's not a standard cookie-cutter house, but one that evokes a magical emotion and whimsical flare."
Where gingerbread homes are found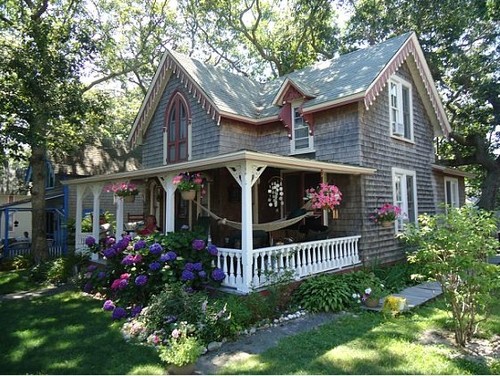 Photo by Becky Harris
Along with the historic Gingerbread District in Port-au-Prince, Haiti, you'll also find these adorable cottagelike homes in Cape May, NJ, and a famous grouping in Oak Bluffs on Martha's Vineyard in Massachusetts.
"Just about every town in the USA likely has at least one gingerbread house, and you'll also find them throughout the Caribbean," adds Solomon.
Living in a gingerbread house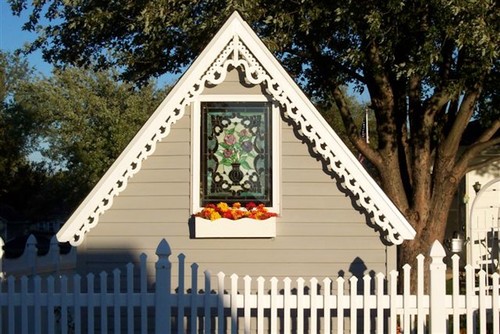 Photo by Durabrac Architectural Components 
While the look embodies curb appeal at its finest, maintaining a gingerbread house takes a good bit of extra effort and patience, says Adam Graham, a construction industry analyst at Fixr.
"The intricate scrollwork in particular needs more attention in terms of time, labor, and cost when it comes to repainting and repairing it," he says.
Bottom line: "All those different colors on the house can be time-consuming," says Solomon. And unless you own a scroll saw and have experience using it, you'll have to hire a pro to replace fallen or rotted-out pieces.
Fortunately, some reproductions of gingerbread house details are being produced in synthetic materials, which are less expensive and more easily maintained than wood.
And don't forget to consider the weather when keeping a gingerbread home in good shape.
"Heavy rain, strong wind, and other elements can damage features of the house, weakening or breaking them off and peeling all that paint," says Graham.
And since the color combinations are a key visual to this home's appeal, it pays to pony up as much as you can to obtain durable high-quality paint for your exterior. Graham advises checking in with a paint expert to learn which kind is right for this home.
How popular are gingerbread houses?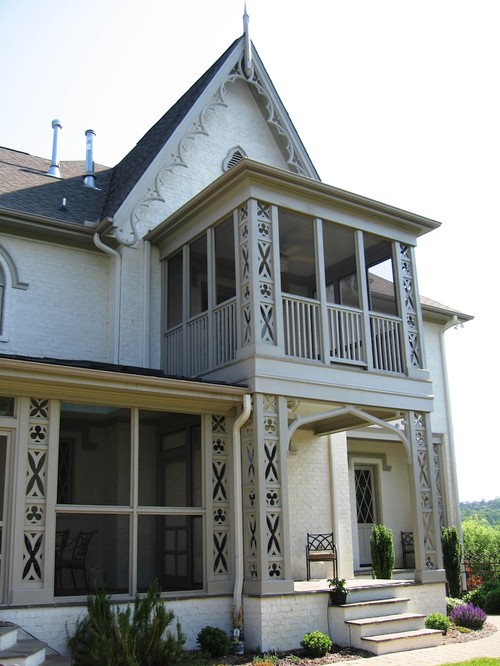 Photo by Durabrac Architectural Components 
While the upkeep of this type of home isn't for the faint of heart, the desirability of the gingerbread style endures.
"These homes are very popular as folks love to buy older houses with character and that feel like they're owning a piece of history," says Power.
The cute factor doesn't hurt either, adds Solomon, since "this house style is perfect for a candle store, bakery, sandwich or toy shop." Add artists, bed-and-breakfast owners, and other romantics to the long list of homebuyers who love the look and feel of these homes since it reflects both their businesses and their personalities.
For this and similar articles, please visit Realtor.com
https://www.altpdx.com/wp-content/uploads/2019/11/logo-horizontal.png
0
0
altpdx
https://www.altpdx.com/wp-content/uploads/2019/11/logo-horizontal.png
altpdx
2023-03-28 00:33:27
2023-02-08 00:43:47
What Is a Gingerbread-Style House? It's Not Quite the Holiday Confection You're Thinking Of