The 10 Most Expensive Cities in the World Are Even Pricier Than SF and NYC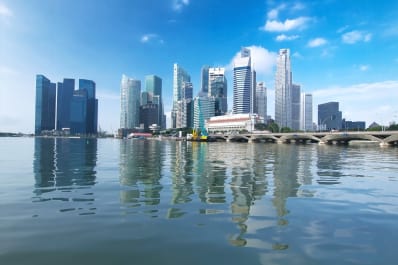 The last time you got a raise, did you potentially daydream of moving to some far-off amazing place? Well, your options may be limited, because that amazing locale might come with a super high price tag—especially if you want to live abroad. The Economist recently updated their list of most expensive cities in the world, and surprisingly, pricey American cities didn't even crack the list this year.
The Economist Intelligence Unit (EIU) puts out an annual cost of living survey which compares more than 400 individual prices across over 150 products and services. It also ranks major cities by most to least expensive.
For the fifth consecutive year, Singapore retains its title as the world's most expensive city in a list split between Asia and Europe. While New York City made the list last year (tied with Copenhagen, Denmark), no American cities were on the list this year.
Check out the full list below:
Most Expensive Cities in the World
1. Singapore
2. Paris
3. Zurich
4. Hong Kong
5. Oslo
6. Geneva
7. Seoul
8. Copenhagen
9. Tel Aviv
10. Sydney
What does life look like in each of these cities in terms of day-to-day purchases? Pretty pricey—and climbing. As shown throughout the chart below, prices have continued to increase in each of these cities year by year, with the EIU including prices from 2008 for comparison. (We'll take a bottle of wine in Geneva, please!)
And while Singapore may be super expensive, it still offers some value to its residents. While it may be the most expensive place in the world to buy a car and the third most expensive location to buy clothing, it does offer fairly reasonable pricing on personal care, household goods, and domestic help.
But all pricey cities are not created equal: Of the top 10 list, the European cities–Paris, Zurich, Oslo, Geneva, and Copenhagen – are more costly in terms of household, personal care, recreation, and entertainment, with Zurich and Geneva being the most expensive. The cities in Asia–Singapore, Hong Kong, and Seoul–tend to be pricier for general grocery shopping.
Surprised that San Francisco and New York City aren't on the list? Politics and economics—like tariffs, a strong economy, and the weakening value of the dollar—have changed the dynamics for how popular U.S. cities rank on the list this year. For example, New York City fell four spots to a 13th ranking.
View the full article here at Apartment Therapy
https://www.altpdx.com/wp-content/uploads/2019/11/logo-horizontal.png
0
0
AltPDX
https://www.altpdx.com/wp-content/uploads/2019/11/logo-horizontal.png
AltPDX
2018-12-22 08:00:24
2018-12-22 08:00:24
The 10 Most Expensive Cities in the World Are Even Pricier Than SF and NYC