The Untold History Behind Why Most Real Estate Agents Are Women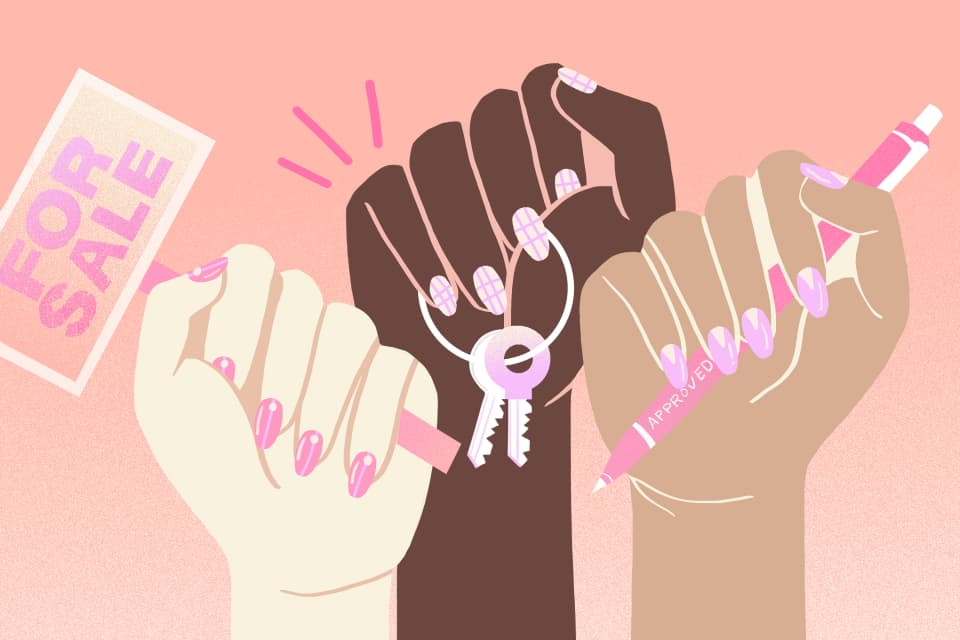 A little over a year ago, Dani Rosenthal was at a crossroads. After spending more than 10 years working for homeware and apparel companies, she was looking to leave city-life and spend more time in Lake Arrowhead, California, where her family had decades-long roots. She loved architecture and historic renovations, and wanted to nurture these interests. After talking to friends and family members, she thought maybe becoming a real estate agent could be a smart next step.
However, something gave her pause:
"The image that the media portrays, predominantly of men with dominating and extreme personalities, is enough to scare a woman out of pursuing a career in real estate," Rosenthal says.
She decided to give it a try anyway. And one year in as a Realtor with Wheeler Steffen Sotheby's International Realty, Rosenthal is finding, instead of intimidation, the industry is filled with respect and support for the women who work in it.
Perhaps this shouldn't be surprising, as the U.S. residential real estate industry is dominated by women: According to the National Association of Realtors, as of May 2018, 63 percent of all Realtors are female. A 2011 Trulia study found that there are more women real estate professionals in every state than male real estate professionals. In some states, like South Dakota and Nebraska, there are roughly 48 percent more female real estate agents and brokers than there are male. In states like Oklahoma and Mississippi—which Trulia claims is the number one female-dominated real estate industry in the nation—that number jumps up to 64 percent.
But women weren't always dominant in selling homes. According to NAR's history of women in Real Estate, when the association first started in 1908, its membership was entirely male, despite 3,000 women working as brokers nationally. Their first female member, Corrine Simpson, a broker from Seattle, Washington, wouldn't join until 1910.
Women didn't become brokers in the early 20th century just because they loved selling homes. Like women across history, the earliest women became brokers due to exigencies that required them to earn money for their families, writes Jeffrey M. Hornstein in his book "A Nation of Realtors®: A Cultural History of the Twentieth-Century American Middle Class." It just so happened that, during this time, new white collar office jobs flooded the market due to advances in technology—jobs that seemed "safer" for women to hold than those on the factory floor. Additionally, prevailing ideas of the time made selling homes a socially-acceptable job for women: "business maternalism," the idea that business could be benefitted by women's moral and nurturing flair as well as their knowledge of all things domestic, and "liberal individualism," the "radical" idea that women were just as capable as men were. Since women owned the home, it made sense that they could sell them (or, in some cases, helped men sell them.)
And though organizations like NAR didn't explicitly ban women from joining, organizations did require local real estate board membership, and these boards did explicitly ban women. So, just like so many times in history, women decided to create their own professional organizations, like the Portland "Realyettes."
Unfortunately, The Great Depression halted women's progress in the industry for a decade. Hornstein writes that about two-thirds of female brokers left the field between 1930 and 1940.
However, in the 1940s, women doubled down that only women had the "established role as guardians of the virtue of the republic through protection of the homes," thus justifying their claim as home sellers. Women held these positions post-World War II, taking advantage of the influx of new single family homes being built in the suburbs and the corresponding increase in homeownership following the establishment of VA-loans. (Sadly, women real estate agents were also a major lobbying driving force against widespread public housing!)
As women in the workplace gained political clout through the women's liberation movement, they gained more opportunities in real estate. In 1973, NAR extended membership from exclusively brokers to sales agents, which made many eligible for membership. By 1978, the majority of NAR members were women. By 1980, almost 300,000 women were real estate agents, making up 45 percent of the industry.
So why do modern-day women remain so drawn to residential real estate? Largely the same reasons they did in the 1920s: According to those in the industry, life as a residential real estate agent provides one of the most flexible schedules for families, good earning potential, and a relatively low barrier to entry. It remains a great option for women looking for a career change or part-time second job.
Veronica Figueroa got her real estate license immediately after graduating from college in 2001 to take advantage of Orlando, Florida's popular timeshare market. But she didn't use it until 2004, when Figueroa and her husband decided to get divorced. She began to question how to maintain the same quality of life for her children with half of the income. So, alongside her full-time job, she started a part-time job as a residential real estate agent. In her first three months, she made $11,000. At the end of her first year, she made $66,000.
"It was more money than I was making as an employee," Figueroa says. This amount really made her evaluate if she could do real estate full-time. One of the biggest draws? The flexibility it afforded her as a single mother—she could time her showings around her kids' schedules. In her second year, she made over $100,000. Just like the women of the early 20th century, she says that the same factors that make her a great mother (her determination as well as leadership and nurturing skills) make her a great real estate agent.
"[Real estate proved that] I could still be successful even though I went through a divorce, and I still wanted to be a great mom and give my kids everything they deserved," she says.
In the nearly 15 years since, Figueroa has maintained incredible growth in the real estate industry. She launched her own brokerage firm, the Figueroa team, in 2007, became a number one listing agent in 2012, and is now one of only 20 U.S. agents on Zillow's Advisory Board.
While becoming a real estate agent may become very beneficial a few years down the line, it's not always the easiest job to start: Hedda Parashos of Palisade Realty in San Diego, California, said she had an especially hard first year. As a stay-at-home mom with two kids, she felt she needed more personal growth outside the home, so she looked into getting her real estate license. Parashos took classes online and got her license within three months, initially believing it would be a relatively easy part-time job.
Still, it took her a full year to close a deal on her first home. "It was really exhausting, it was really hard—I realized that people don't really pay attention to you until you have enough experience," Parashos says.
But Parashos remained motivated to make a living and also to spend quality time with her kids.
So to better understand how she could move up more quickly in the industry after such a difficult first year, she visited her local multiple listings service association to take courses, read every email pertaining to real estate, read the newspaper's business section, and reached out to loan officers and escrow officers to discuss financing for potential clients.
As she gained skills, she began closing transactions. She made her first $100,000 commission. Her confidence grew.
Twelve years later, Parashos is now the head of her agency. She cites her initial naivete as a driving factor that allowed her to get where she is today:
"I was able to become a little bit more creative, and a little bit more daring—I was able to try different avenues of trying to make it happen," she said. "My mind wasn't tainted by other people's opinion or experience; I got to experience it so purely my way."
Though being a real estate agent offers increased flexibility over other 9-to-5 jobs, it's still not perfect. Maria Koziakov got her real estate license 10 years ago, when she was pregnant with her first child. She hoped she would be able to raise her family and make a living. However, while she could set some of her own hours, her days were still ultimately at the mercy of her clients.
"A flexible schedule is usually referred to as a benefit, but the down side of it is that you need to work evenings and weekends," Koziakov says. "It can really be unpredictable. You get a phone call and you must show a house in the next few hours. If a client is in town for only a few days, you can't reschedule the showing."
It's a constant hustle, she says: "Time management is a big issue and there will always be listings that do not sell and deals that fall through."
Though there are occupational hazards that come with working with clients and being alone as women, incidents are relatively rare. One year in, Rosenthal says she has come across the occasional "honey" and "sweetie" (which do make her momentarily cringe), but she hasn't yet experienced what she believes to be a "true, gender-charged negative experience."
Though this may just be her experience, Rosenthal thinks it also might be because there are so many women looking out for other women in the industry.
"There is a huge learning curve, but it's so beneficial to have a good role model and/or mentor in the beginning," she says.
Figueroa agrees: "It's a great time to be in real estate; as a woman, it's more collaborative than ever," she says, citing the Women's Council of Realtorsand the Woman Up! conference. "Women are empowering each other more than ever: Find a great mentor, find a great team leader, find a great broker, and listen to them—they're only going to help you get there quicker."
View the full article here at Apartment Therapy
https://www.altpdx.com/wp-content/uploads/2019/11/logo-horizontal.png
0
0
AltPDX
https://www.altpdx.com/wp-content/uploads/2019/11/logo-horizontal.png
AltPDX
2019-04-12 06:30:53
2019-04-12 06:30:53
The Untold History Behind Why Most Real Estate Agents Are Women