2023's Top Kitchen Trends Are All About Saving Money, Honey
Is your kitchen begging for some updates or a full-on makeover? Then you'll want to be up on the latest design trends and keep the environment in mind, too.
A new survey of 3,600 homeowners by Houzz has found that an overwhelming majority of people planning a kitchen renovation this year (92%) are looking to include eco-friendly features.
Some of the most popular upgrades chosen include energy-saving appliances (61%) and LED lights (65%), as well as more efficient windows (27%) and fixtures that conserve water (34%).
Yet saving the earth is actually more of a side benefit to homeowners' main goal: saving money.
According to Houzz staff economist Marine Sargsyan, "the most frequent reason behind choosing sustainable options is long-run cost effectiveness, with environmental-friendliness as a secondary consideration."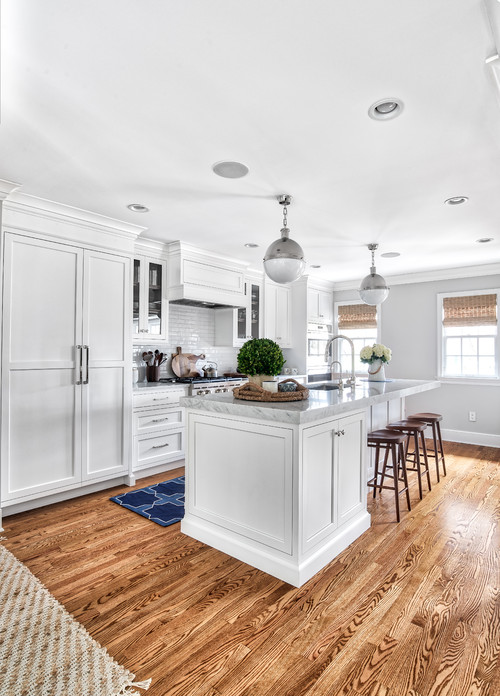 Photo by Kountry Kraft 
Saving cash isn't easy, though, given the median spend on minor kitchen renovations has shot up 40% year over year, to $14,000. Meanwhile, the money plunked down for major overhauls (which include replacing all appliances and cabinets) has remained steady at $45,000.
Here's a detailed look at the report's findings, which might get some ideas cooking on how to change up your own kitchen, too.
A new year, a new style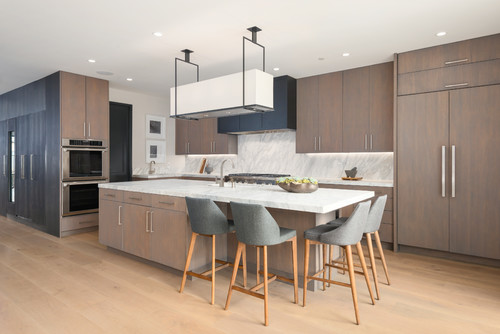 Photo by Winder Gibson Architects 
As has been the pattern over the past few years, 83% of homeowners who are delving into a kitchen rehab are changing the room's style. Top designs include transitional (23%), followed by modern (14%) and contemporary (12%). Still love the modern farmhouse look? It remains in the mix and even went up a point from last year, to 11%.
Open floor plans are still going strong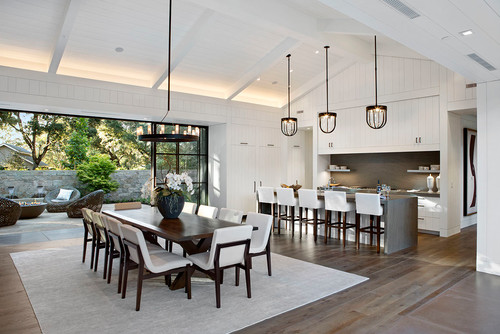 Photo by Paragon Custom Builders 
When it comes to kitchen design, the open plan is still in vogue. Last year, interest in this look dropped a bit, but per the latest numbers, 40% of renovating homeowners are opting for cook spaces that are open to the rest of their interiors, which is up from 38% in the previous year.
What's more, 20% of folks are even looking to open up their new kitchens to the outdoors, with a set of double doors or row of doors taking the top choice (46%), a single door after that (29%), and a pass-through window last, at 14%.
White still rules, with wood tones next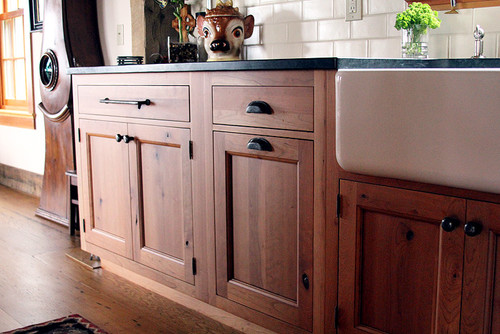 Photo by rk MILES, Inc. 
Forty percent of homeowners surveyed still want white cabinets in their kitchens, but wood-toned options are gaining traction, up 3 percentage points, to 24%, this time around. And for those homeowners who are into contrasting island cabinet doors, black as well as medium and dark wood shades all increased at least 2 percentage points in 2022.
But blue (24%) and gray (15%) still win the kitchen island color contest, even though these hues declined 2 and 3 percentage points respectively since last year.
Electronic upgrades are everywhere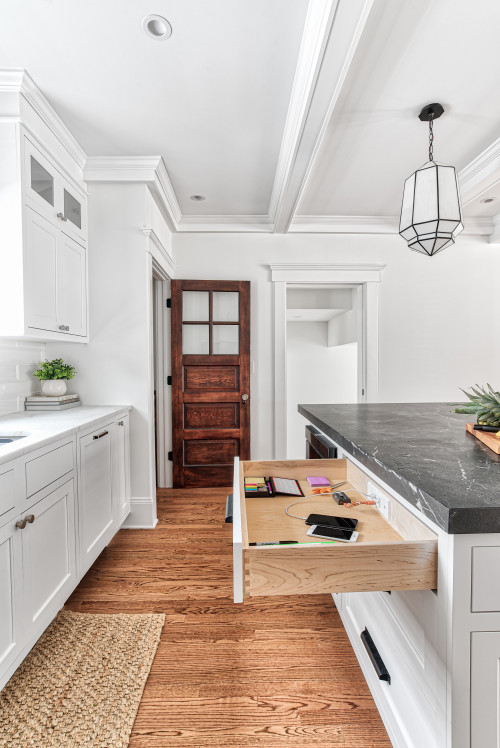 Photo by Mannino Cabinetry 
Sustainability, pretty colors, and a breezy open flow don't mean a thing if you can't charge all of the family phones in one easy spot. Electronic improvements continue to increase in desirability, per the report, which includes docking stations (49%, up 9 percentage points), wireless speakers for rocking out during Taco Tuesday (37%, up 11 percentage points), and stereos (up 10 percentage points, to 20%).
Homeowners also crave high-tech bells and whistles in their faucets and appliances. Sink tap choices include ones that save water (24%) and those that offer touch-only or touch-less activation (23%).
As for fridges and other big-ticket items, folks are putting in appliances with Wi-Fi connections (25%) and ones that can be controlled from a phone or tablet (24%).
Put that contractor on speed dial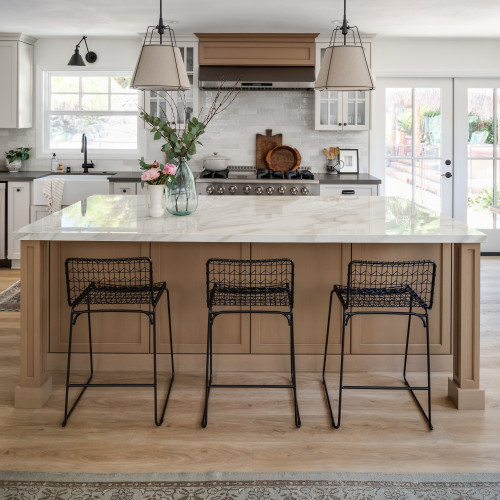 Homeowners know they need the right person on the job when it comes to kitchen rehabs, which is why 84% still pick a pro rather than going the DIY route. General contractors rank the highest (50%), with kitchen designers (22%), interior decorators (15%), and architects (11%) following behind.
And to get those green touches just right, 3% of us are hiring a dedicated source to advise on all things eco-friendly in the kitchen. Mother Earth thanks you!
For this and related articles, please visit Realtor.com
https://www.altpdx.com/wp-content/uploads/2019/11/logo-horizontal.png
0
0
altpdx
https://www.altpdx.com/wp-content/uploads/2019/11/logo-horizontal.png
altpdx
2023-03-25 00:31:54
2023-02-08 00:43:56
2023's Top Kitchen Trends Are All About Saving Money, Honey