Kitchen Cabinets Need a New Look? 7 Savvy Design Tips To Improve Your Storage Space
Two smart moves when updating your kitchen cabinets include fresh paint and new hardware. But you should also look beyond paint samples or the shape of drawer pulls and think about how you use your kitchen, and whether the organization of your kitchen is doing the best job.
"The best design in any room incorporates how the space is going to be used," says Karen Gray-Plaisted of Design Solutions KGP.
Case in point, do you still need a drawer dedicated for sippy cups and melamine bowls now that your kids are older—or could that cabinet be better used for something else?
When you are upgrading your kitchen cabinets, don't be swayed by every trend you spy on Instagram (we're looking at you, open shelving!). Be brave and create the kitchen that you want to wake up to every morning.
Here are seven design ideas to consider when you're updating your kitchen cabinets.
1. Try two colors (instead of one)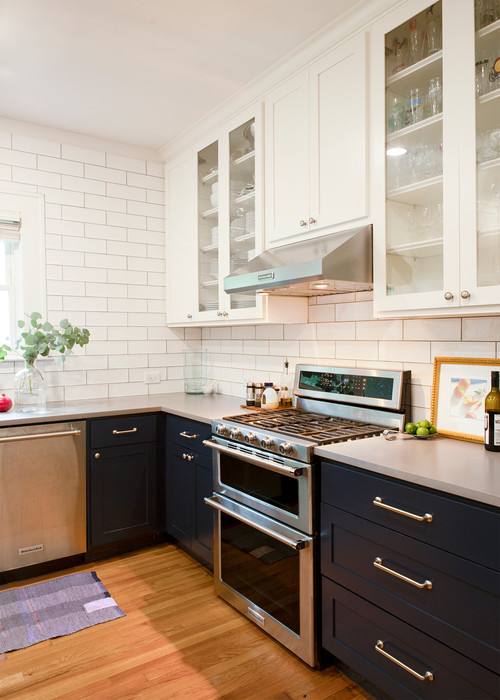 Navy kitchens have been getting all the heart-eye emojis lately, but it can make a kitchen seem dark. Don't be afraid to use a two-tone color scheme, with a darker hue on the lower cabinets and a contrasting lighter color above, say the pros.
"A deep green or blue paired with a lighter upper is a refreshing look," says Gray-Plaisted.
2. Open up lower cabinets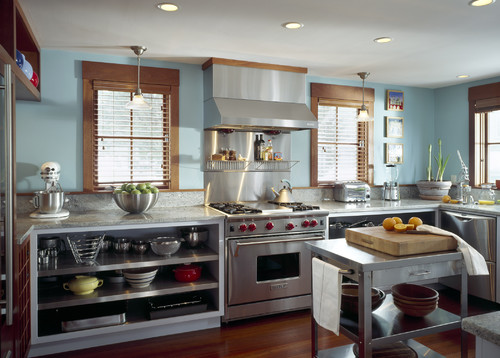 Many people flock to open shelving, or they remove their upper cabinet doors to expose their box storage. But revealing the lower cabinets is just as effective and can create an airy feeling in your kitchen.
And if you've ever rummaged around in a dark lower cabinet for a Bundt pan or rice cooker, you'll save time and stress on your back with easy-access bottom cabinets.
Create theme storage by dedicating certain areas to particular needs—think baking dishes and mixing bowls in one section and egg pans and small skillets in another. (This is helpful for open shelving as well as closed cabinets!)
3. Reconsider your storage needs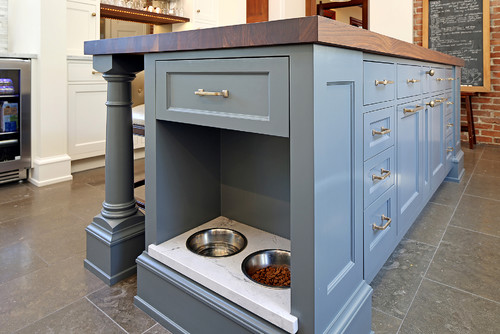 Tastes change over time—and kids grow up and move away. Left in their wake may be storage and other cabinet solutions that don't make sense anymore.
"Cubbies for wine or certain appliances may not be needed, so consider how you want to live right now and going forward," says Marty Basher, an organization professional at Modular Closets.
For example, that roll-up, garage door–style cabinet for the standing mixer you've stopped using could be replaced with a tricked-out spot for a cappuccino maker. Or the messy dog food bags that live under the sink could finally be stored properly in a pet-feeding station.
4. Skip paint—and add veneer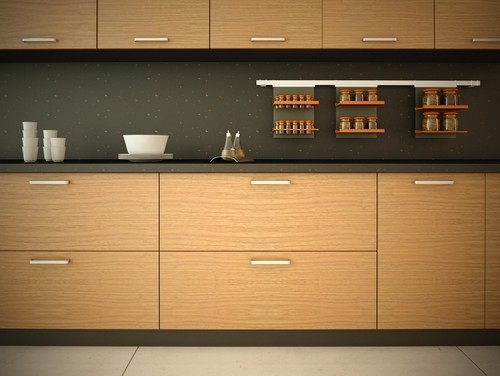 To rehab kitchen cabinets, think beyond paint. If you have wood cabinets, you might want to sand and stain them a different color. Flat panel doors are a good candidate for new veneer.
"Veneer comes in lots of colors and styles, and it's actually something you can DIY," says Basher.
And even if you don't want to completely cover your cabinets with veneer, you could use it as accent trim, he adds.
5. Pick interesting glass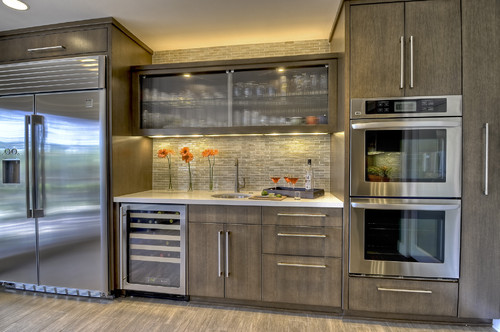 Ho-hum glass-front cabinets again. Or are they? Look closer, and you'll notice that these kitchen boxes don't hew to the same style you see in everyone's house. Check out the different options for this look, including fluted, wavy, or frosted panels, says Gray-Plaisted.
Bonus: With glass that obscures the insides of your cabinets, you won't have to work as hard to stack and arrange your cups and bowls every time you empty the dishwasher.
6. Try chicken wire, cork, or chalkboard cabinet faces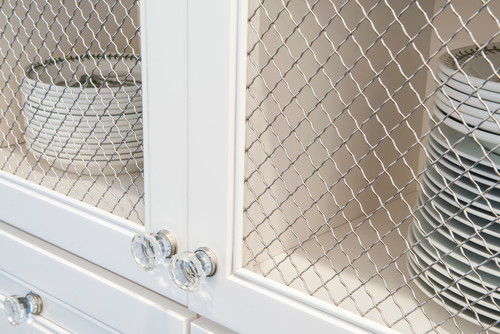 Photo by Case Design/Remodeling of Indianapolis
Glass isn't the only choice when updating your kitchen cabinets. Chicken wire is an unexpected surprise on the fronts as it offers a glimpse of your pretty plates as well as infusing the whole room with a farmhouse vibe.
Or go for cork or chalkboard as inserts on cabinet faces. With handy surfaces like these, you can pin up notices, announce the evening's dinner menu, or make a to-do list.
7. Consider stand-alone storage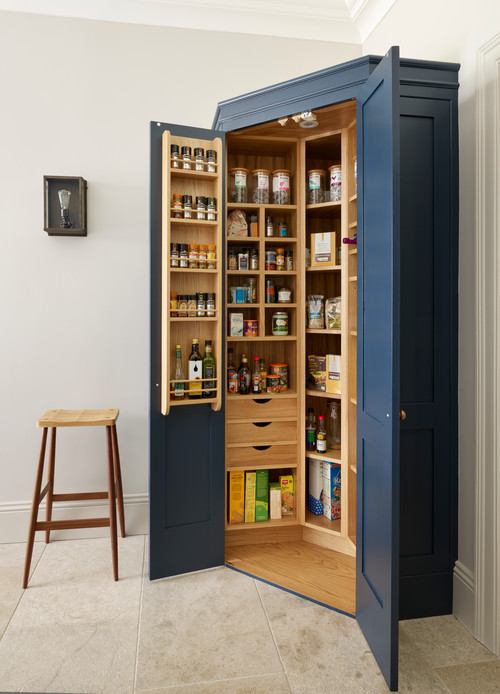 Sometimes upgrading your kitchen cabinets means adding a separate piece of furniture. A free-standing pantry or larder is an ideal solution for a corner space, whether you buy one just for this purpose or rehab an old china chest or curio cabinet. And if you choose the two-tone theme mentioned previously, you might continue it by painting this item one shade on the outside and a brighter, more exciting hue within.
For this and similar articles, please visit Realtor.com
https://www.altpdx.com/wp-content/uploads/2019/11/logo-horizontal.png
0
0
altpdx
https://www.altpdx.com/wp-content/uploads/2019/11/logo-horizontal.png
altpdx
2023-01-10 22:25:37
2023-01-13 20:08:49
Kitchen Cabinets Need a New Look? 7 Savvy Design Tips To Improve Your Storage Space